Strategies
Top Left Wingers in Fantasy Hockey

Alexander Ovechkin shines as the top fantasy left winger in the NHL. Ovechkin who is having another big season for the Washington Capitals didn't need long to top the 30 goal mark. The face of the Capitals netted a pair of goals and an assist against the St. Louis Blues on February 1st.
The 30 goals scored was Ovechkins tenth straight season with the accomplishment landing him in a special group of players. Ovechkin became the fifth player in the history of the NHL to record at least 30 goals in his first 10 seasons joining him with the likes of Wayne Gretzky, Mike Bossy, Jari Kurry and Mike Gartner.
Ovechkins ability to beat any goalie in the NHL and put the puck in between the pipes makes him the top fantasy left winger.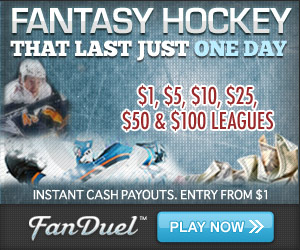 Here are our top 5 left wingers in the NHL.
* Alexander Ovechkin, Washington Capitals: Ovechkin took home the first star for the NHL in the month of January.The Capitals star finished the month with 12 goals including six power play goals. Ovechkin also added 59 shots on goals to help power his fantasy owners. Entering February, Ovechkin leads the league with 31 goals pushing him just atop Rick Nash.
* Rick Nash, New York Rangers: The Rangers star is having an excellent season netting 29 goals to go with 15 assists. Only Ovechkin has more goals scored from the position then Nash. Nash finished Janaury with nine goals scored, two assists and 6 +/- to lead the Rangers to a 5-4 record.
* Henrik Zetterberg, Detroit Red Wings: Zetterberg enters February as the 13th leading scorer in the entire NHL with 46 points. Despite the lack of goal scoring Zetterberg has been consistent with 31 assists in his first 50 contests. The Red Wings left winger has also added 153 shots on goals.
* Max Pacioretty, Montreal Canadians: Pacioretty has shown all season he has the ability to be one of the top goal scorers. Entering February, Pacioretty's 23 goals scored are good enough for eighth in the NHL as well as the third most by a left wing man. The Canadians star is projected to finish the 2014-15 NHL season with 38 goals to go with 28 assists and over 300 shots on goal.
* Nick Foligno, Columbus Blue Jackets: We could have went a few different directions with this last pick but we ended up going with Foligno. Despite failing to reach double digits in points scored, Foligno carries around the heart and dedication to be a prime time fantasy star for owners down the stretch.